Eric Dubin is honored to be featured on the cover as the Attorney of the Month by the Orange County Attorney Journal. Eric Dubin is widely respected as one of the top trial lawyers in America.
He has been named in the "Top 20 Lawyers in California" by the Daily Journal, the "Best Lawyer in Orange County by OC Weekly", "Super Lawyer" by SuperLawyer Magazine, and many more accolades. We are incredibly honored.
This article, that was just published, features a 6 page spread on Eric Dubin's career, visions, and future goals practicing exclusively as an LA & Orange County personal injury attorney.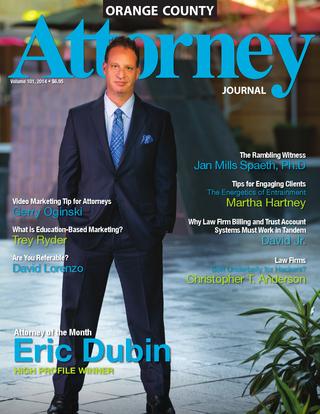 "I consider being a trial lawyer a tremendous honor and a great responsibility. The people I represent suffer and survive life altering incidents, and to be able to get them justice; that's what I live for. "

– Eric Dubin, Orange County personal injury attorney
For full article, "High Profile Winner: Eric Dubin's Relentless Pursuit of Justice Has Made Him The Public Face of Plaintiffs Advocacy", on Attorney Journal, CLICK HERE.

If you need any help with your personal injury case, let the experience of Los Angeles and Orange County personal injury lawyer, Eric Dubin help you get the compensation you deserve! You may contact Eric online or call him directly at 714-381-1275.

The following two tabs change content below.
Orange County Personal Injury Attorney
Latest posts by Orange County Personal Injury Attorney (see all)