Referrals

"I have known Eric for the better part of 20 years and he has proven over and over again why he is successful; he is a tenacious litigator who never loses sight of how important the case is to his client. Eric not only gets results the old fashioned way — he wins in court — but he delivers true client satisfaction by guiding and supporting them through the very difficult process of litigating personal injury, wrongful death and other matters. I have recommended Eric to many people in need of an excellent personal injury or wrongful death attorney and Eric has delivered every time."
Dale Giali, Partner, Mayer Brown LLP
Dubin Law Firm pays the highest referral fees under allowed under California Law
The Dubin Law Firm welcomes referrals from other lawyers. The firm considers a client referral the highest compliment one lawyer can pay to another, and we welcome the opportunity to co-counsel, joint venture or assume the representation of clients on behalf of fellow attorneys.

After handeling many high profile cases, The Dubin Law Firm is considered one of the top Plaintiffs' law firms in the country and receives case referrals from all types of lawyers and law firms. Our presence on a case benefits clients by maximizing their recovery, giving them the outstanding representation they deserve.
WIN WIN CHOICE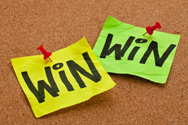 Referring cases to The Dubin Law Firm is a true win-win, knowing both your referral will receive amazing care and representation from proven winner, and maximizing recovery for all.
The Dubin Law Firm recognizes the importance of referral lawyers to our firm. Referring a Personal Injury, Wrongful Death, and/or Business Litigation matter to us is doing a great service to your clients, or adding the Dubin Law Firm as a power partner to joint venture on a matter.
With great pleasure, we treat all referral lawyers with the utmost respect and promptly pay referral fees upon the resolution of a case.
As required by State Bar rules, all referral fee agreements are fully disclosed to the client, who must consent to the arrangement. The referral fee agreement does not increase the fee owed by the client. It is simply an agreement among counsel to allocate the fee that the client agrees to pay this office (for example, 25% of the contingent fee, or 10% of our hourly fee, negotiated between The Dubin Law Firm and the referred client).
If a lawyer interested in potentially referring a case to The Dubin Law Firm has any questions regarding the firm's referral fee policy, he or she is invited to contact Eric directly on his cell at 714 381-1275, or direct email [email protected].

The following two tabs change content below.
Orange County Personal Injury Attorney
Latest posts by Orange County Personal Injury Attorney (see all)