Orange County Motorcycle Accident Attorney
Motorcycles are a convenient means of transportation, fuel-efficient and fun!  Unfortunately, however, they can also be dangerous.  These dangers can be avoided if you take safety precautions like wearing a helmet, following traffic rules, etc. For those who are unfortunate enough to be involved in one of these accidents, Eric Dubin is one of the top Orange County motorcycle accident attorneys.
Some common causes of motorcycle accidents are: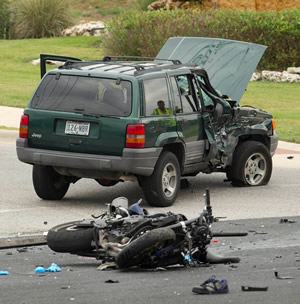 Road Hazards
A bump in the driveway, a patch of gravel, or a sharp turn. These are some of the common ones that usually result in minor injuries and damage. Bruises on the driver and dents on the bike are not that serious but they can happen in an instant.
Poor road and weather conditions.
It's almost impossible to control the environment and even the most experienced driver has to be cautious when driving during these conditions.
Another driver's error.
This can range from drivers who do not pay attention to those who are not able to see the other motorcycle in time to prevent an accident. This goes to show that as a motorcycle driver, you have to drive carefully and be aware of other drivers at all times.
What You Can Do If You Are In A Motorcycle Accident
Often times, motorcycle accidents can be much more serious than normal vehicle accidents because the injuries sustained from a motorcycle accident can be very severe. In fact, according to the U.S. Department of Transportation's National Highway Traffic Safety Administration, the motorcycle fatality rate was 73 per 100,000 registered motorcycles; meanwhile, the passenger vehicle fatality rate in the same year was 14 per 100,000 registrations (2005). If an accident happens, one of the most important things that you can do after an accident is to contact a motorcycle accident attorney in Orange County.
Legal assistance is important so that you can claim compensation for damages and injuries. Even in cases where somebody dies, the family members of the deceased need the assistance of a qualified attorney.  An experienced motorcycle accident lawyer Orange County can get the details of the accident and do other things that can help give you a better chance of getting the compensation you deserve for damages and injuries. An experienced Orange County accident attorney has the skills and the knowledge to help you get what you deserve.
Accidents are beyond our control, but we can make sure that our legal rights are protected by contacting an Orange County accident lawyer.  Contact Eric Dubin on his cell today at 714 381-1275 or his direct email [email protected]  for free immediate consultation.

The following two tabs change content below.
Orange County Personal Injury Attorney
Latest posts by Orange County Personal Injury Attorney (see all)